Stefanos Haddad, MD
Orthopaedic Surgeon in Albany, East Greenbush and Latham, NY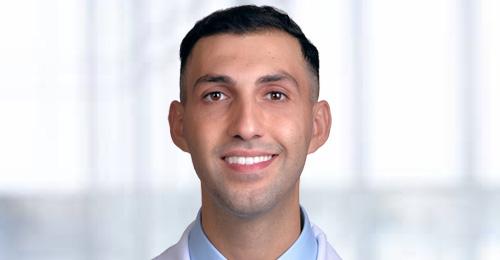 Dr. Stefanos Haddad is an orthopaedic surgeon with a subspecialty in hand and upper extremity surgery. His area of expertise includes treatment of hand, wrist, forearm, elbow and shoulder conditions and injuries. His practice also includes general orthopaedics and orthopaedic trauma.
Specialties: Hand and Wrist , Elbow , Shoulder
Locations:
121 Everett Road
Albany, NY 12205

711 Troy-Schenectady Road
Suite 111, Latham, NY 12110
Born and raised in the capital region, Dr. Haddad is a graduate of Shaker Highschool and the State University of New York in Albany. Dr. Haddad obtained his M.D. at SUNY Upstate Medical University in Syracuse, New York. Upon the completion of his residency in orthopaedic surgery at Albany Medical Center, he completed a fellowship in hand and upper extremity surgery at Rothman Institute in Philadelphia.
Fellowship

Hand & Upper Extremity Surgery Fellowship at Rothman Institute, Thomas Jefferson University Hospital.
Philadelphia, PA

Medical School

SUNY Upstate Medical University, College of Medicine. M.D.
Syracuse, NY

Residency

Albany Medical Center Residency of Orthopaedic Surgery.
Albany, New York
Committed to collaboration and sharing knowledge with other experts, Dr. Haddad is a member of the American Academy of Orthopaedic Surgeons, the American Association for Hand Surgery, and the American Society for Surgery of the Hand. He has authored numerous peer-reviewed journal articles and textbook chapters and presented at national meetings.
Reviews: