Michael Okoli, MD
Orthopedic Surgeon in Albany, East Greenbush, Malta and Clifton Park, NY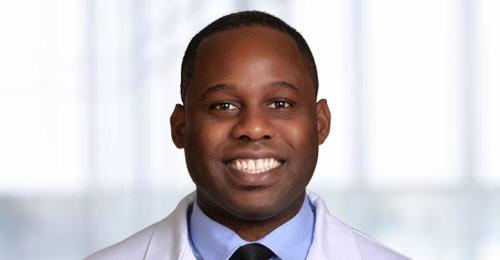 Dr. Michael Okoli is a fellowship-trained orthopedic surgeon who specializes in injuries and disorders of the hand, wrist, shoulder, and elbow. He has interests in minimally invasive carpal tunnel surgery, shoulder injuries, nerve injuries, arthritis, Dupuytren's contracture and all fractures of the upper extremity, in addition to general orthopedic surgery.
Specialties: Hand and Wrist , Elbow , Shoulder
Locations:
121 Everett Road
Albany, NY 12205

1768 Route 9
Clifton Park, NY 12065

2388 RT 9
Mechanicville, NY 12118
Dr. Okoli completed his bachelor's degree in Biological Basis of Behavior from the University of Pennsylvania in Philadelphia, PA. He then earned his Doctor of Medicine degree at Northwestern University Feinberg School of Medicine in Chicago, IL. He returned to Philadelphia, PA, to complete his residency in orthopedic surgery at Thomas Jefferson University. His surgical training culminated in a fellowship in hand, microvascular and upper extremity surgery at SUNY Stony Brook Hospital in Long Island, NY.
Dr. Okoli has several peer-reviewed research publications, podium presentations at national orthopedic surgery conferences, and multiple book chapters in the orthopedic literature. He is a candidate member of the American Society for Surgery of the Hand, the American Association of Hand Surgery, and the American Academy of Orthopedic Surgeons.
When he is not seeing patients, Dr. Okoli enjoys learning do-it-yourself projects, fitness, art, and spending time with his family.
Reviews: