Amar A. Parikh, MD
Pain Management Specialist in Albany, Clifton Park, East Greenbush and Malta - Route 9, NY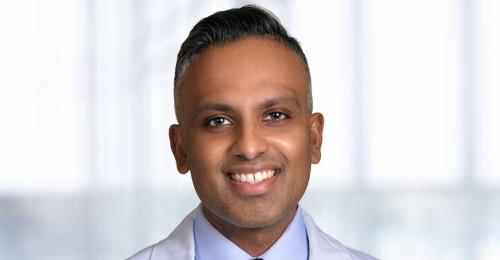 Dr. Amar Parikh is a board certified Anesthesiologist and Interventional Pain Management physician whose interests include minimally invasive approaches for the treatment of spine pain. He has a specific interest in complex neck and low back pain, spinal stenosis, spinal cord stimulation therapy, and headache. Additionally, he has specialized training in ultrasound-guided nerve blocks.
Specialties: Pain Management
Locations:
121 Everett Road
Albany, NY 12205

1768 Route 9
Clifton Park, NY 12065

2388 RT 9
Mechanicville, NY 12118
Dr. Amar Parikh grew up in Long Island, NY and graduated as the salutatorian of WT Clarke High School. He completed a dual degree as a Bachelor of Arts and Science in the fields of Biology and Political Science at Union College in 2004. He earned the distinction of graduating Summa Cum Laude and was inducted into the Phi Beta Kappa Honor Society.
Following graduation, he pursued a Masters in Business Administration degree in Health Systems Management at the Union Graduate College. He has used this degree in various projects towards the implementation of Total Quality Management in the healthcare setting.
Dr. Parikh earned his medical degree in 2008 from Albany Medical College. In 2012, he completed his residency in Anesthesiology at the prestigious Beth Israel Deaconess Medical Center (BIDMC) in Boston, MA. Following residency, he served as a Staff Physician and Instructor of Anesthesia at BIDMC and Harvard Medical School. He followed his residency training with a highly coveted fellowship in Interventional Pain Management at BIDMC. As a result, he expanded his medical skills with a multitude of minimally invasive and multimodal approaches towards the care of complex spine pain.
In addition to pain management, Dr Parikh enjoys spending time with his family, and participating in athletic activities such as basketball, running, and hiking.
He is an active member of the American Society of Anesthesia, American Academy of Pain Management, International Spine Intervention Society, and American Medical Association.
Medical School

Albany Medical College 2008

Fellowship

Interventional Pain Management at Beth Israel Deaconess Medical Center, Harvard Medical School in Boston MA, 2013

Residency

Anesthesiology at Beth Israel Deaconess Medical Center, Harvard Medical School in Boston, MA, 2012
Board Certified in Anesthesiology
Board Certified in Pain Management
Executive Woods Ambulatory Surgery Center
Albany Memorial Hospital
Dr. Parikh has co-authored textbook chapters on the management of post-amputation pain disorders, common anesthetic complications, and pre-emptive analgesic strategies in the perioperative setting. He also serves as a leader in the field in ultrasound-guided techniques. In doing so, he has also led national conferences on ultrasound guided regional anesthesia and ultrasound for pain management procedures.
Reviews: